This item will be ordered from our supplier. Once we receive the item it will be dispatched within
1-2 working days
From:
CarSpares (Cheshunt) Ltd
Checking Availabillity...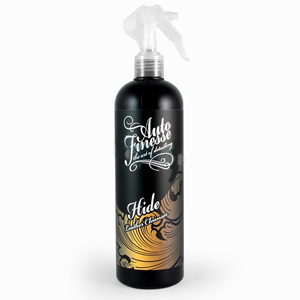 HLC500 Hide Leather Cleaner 500ml - Auto Finesse
By Auto Finesse Product Code: ATFHLC500
This item will be ordered from our supplier. Once we receive the item it will be dispatched within
1-2 working days
Description
A gentle but effective liquid cleaner for all types of modern car leather upholstery. It is highly affective at cleaning and removing light soiling, dirt and grime. Restore the finish of your fine leather.
Apply Auto Finesse Hide Leather Cleaner to a cloth and then applying it to the surface is always the safest option to avoid 'streaking'.
We always recommend following up Hide Leather Cleaner with Auto Finesse Hide Conditioner.