This item will be ordered from our supplier. Once we receive the item it will be dispatched within
1-2 working days
From:
CarSpares (Cheshunt) Ltd
Checking Availabillity...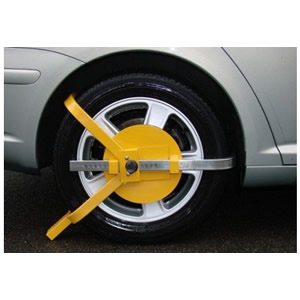 9065 Universal Wheel Clamp - Maypole
By Maypole Product Code: MAPMP9065
This item will be ordered from our supplier. Once we receive the item it will be dispatched within
1-2 working days
Description
Suitable for cars and caravans with wheels 13"-17", with tyre width 175mm to 215mm. Can be used without removing the wheel trim and fitted with a rubber pad to prevent wheel damage. Security plate prevents access to wheel nuts. High security, pick resistant lock, dust, water and corrosion proof. Folds for easy storage. Supplied with two keys.