In Stock
This item is normally dispatched within
1-2 working days
From:
CarSpares (Cheshunt) Ltd
Checking Availabillity...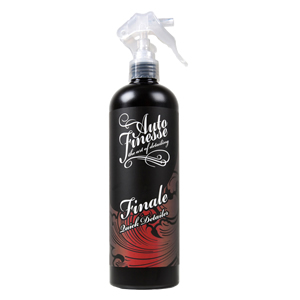 FE500 Finale detail spray 500ml - Auto Finesse
By Auto Finesse Product Code: ATFFE500
In Stock
This item is in stock at our warehouse and is usually
dispatched within 1-2 working days
Description
The perfect way to finish off your detailing. Carnauba-infused water-based quick-detailing spray which does not smear or streak when used in hot, cold, or humid weather conditions. Love its utterly forgiving nature, sweet maraschino cherry scent and warm carnauba glow. Suitable for all surfaces including paint, glass, hard plastic and brightwork trim.
Application:
Start by giving the bottle a good shake to activate the ingredients. Apply a fine mist of product onto one section at a time and spread over the panel using a plush microfiber towel. A little goes a long way, so it is unnecessary to oversaturate the surface. Turn over or re-fold the towel to reveal a clean, dry side, and gently buff until the finish is clear. If using Finale during hot weather, it is advisable to work over small sections at a time to prevent premature drying of the product.