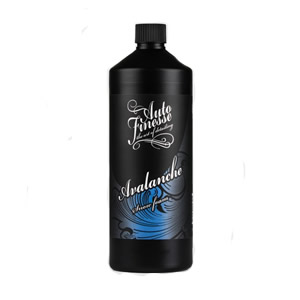 Avalanche Snow Foam 1L
Auto Finesse - ATFAV1L
Delivery
Best Price
Seller:
Rapid Car Parts
In Stock
- Usually dispatched within
1-2 working days
In Stock
- Usually dispatched within
1-2 working days
Collection
From:
CarSpares (Cheshunt) Ltd
Description
Pre wash foam to loosen and remove road grime prior to washing. Helps to remove contaminants that may otherwise be moved around the vehicle during contact washing - thus avoiding irritating swirl marks.
Thick foam to cleanse paintwork of road contaminants.
Citrus infused
Loosens dirt and road grime safely
Wax friendly and suitable for regular use
Application:
Cover the vehicle from top to bottom. Leave to sit for approximately 5 minutes, allowing the product to attack any surface contaminates. After 5 minutes, jet-wash the product from the vehicle thoroughly workign top to bottom.
Despite Avalanches high cleaning abilities, the solution is wax and sealant freindly, meaning it wont remove or breakdown any protection you have previously applied to your vehicles paintwork
Use the Auto Finesse® Avalanche Snow Foam in conjunction with a pressure washer foam lance for best results, or a pump spray bottle or garden hose foam lance, to loosen and remove traffic film and built-up road grime, prior to contact washing.