In Stock
This item is normally dispatched within
1-2 working days
From:
CarSpares (Cheshunt) Ltd
Checking Availabillity...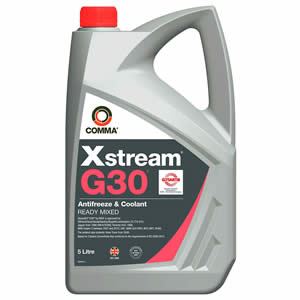 XSM5L XStream G30 Anti-Freeze Ready Mixed 5L Antifreeze - Comma
By Comma Product Code: COMXSM5L
In Stock
This item is in stock at our warehouse and is usually
dispatched within 1-2 working days
Description
Protects from -36C to +45C Mixed with treated water to reduce scale build up Silicate free, Organic Acid Technology (OAT) for superior engine protection Up to 5 years protection Protects against corrosion, erosion, over heating & freezing Suitable for petrol & diesel engines Ready to use ethylene glycol based antifreeze & coolant with OAT (Organic Additive Technology) inhibitors. Protects against corrosion, overheating and freezing. Typical service life of up to 5 years. Safeguarded with bittering agent to help prevent accidental ingestion.