In Stock
This item is normally dispatched within
1-2 working days
From:
CarSpares (Cheshunt) Ltd
Checking Availabillity...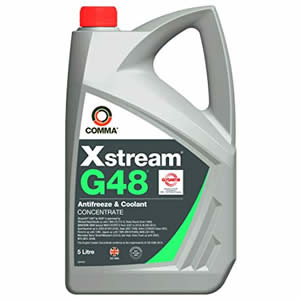 XSG5L XStream G48 Anti-Freeze Concentrate 5L Antifreeze - Comma
By Comma Product Code: COMXSG5L
In Stock
This item is in stock at our warehouse and is usually
dispatched within 1-2 working days
Description
3 Years Extralife Protection. -36c (Ambient) Winter Protection. +45c (Ambient) Summer Protection. High performance vehicle manufacturer approved antifreeze. Pure concentrate ethylene glycol, nitrite, amine and phosphate free. May be used in all petrol and diesel engines to provide Extralife 3-year Protection. Ethylene glycol based antifreeze and coolant with silicate based inhibitors. Protects against corrosion, overheating and freezing. Typical service life of up to 3 years. Safeguarded with bittering agent to help prevent accidental ingestion. Manufacturer Approvals : AUDI/SEAT/SKODA/VW (TL774-C), BMW (N600.69.0) MAN (324-NF) MB (325.0) MTU (MTL5048) OPEL/GM (B 040 0240) PORSCHE, SAAB (6901599) Exceeds exacting quality standard BS-6580-1992 Meets AFNOR NFR 15-601 (Except Reserve Alkalinity) Contains BASF GLYSANTIN G48 (VW Code G11).