In Stock
This item is normally dispatched within
1-2 working days
From:
CarSpares (Cheshunt) Ltd
Checking Availabillity...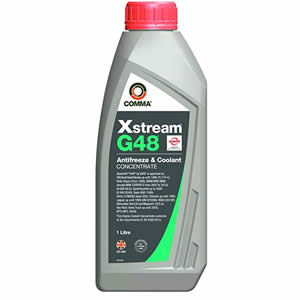 XSG1L XStream G48 Anti-Freeze Concentrate 1L Antifreeze - Comma
By Comma Product Code: COMXSG1L
In Stock
This item is in stock at our warehouse and is usually
dispatched within 1-2 working days
Description
High performance vehicle manufacturer approved antifreeze to protect against corrosion, overheating and freezing. May be used in all petrol and diesel engines to provide Extralife 3-year Protection. Pure concentrate ethylene glycol, nitrite, amine and phosphate free. -36c (Ambient) Winter Protection. +45c (Ambient) Summer Protection. Ethylene glycol based antifreeze and coolant with silicate based inhibitors. Safeguarded with bittering agent to help prevent accidental ingestion.
Manufacturer Approvals : AUDI/SEAT/SKODA/VW (TL774-C), BMW (N600.69.0) MAN (324-NF) MB (325.0) MTU (MTL5048) OPEL/GM (B 040 0240) PORSCHE, SAAB (6901599) Exceeds exacting quality standard BS-6580-1992 Meets AFNOR NFR 15-601 (Except Reserve Alkalinity) Contains BASF GLYSANTIN G48 (VW Code G11).