In Stock
This item is normally dispatched within
1-2 working days
From:
CarSpares (Cheshunt) Ltd
Checking Availabillity...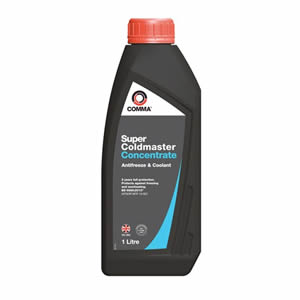 SCA1L Super Coldmaster Anti-Freeze Concentrate 1L Antifreeze - Comma
By Comma Product Code: COMSCA1L
In Stock
This item is in stock at our warehouse and is usually
dispatched within 1-2 working days
Description
Premium traditional antifreeze suitable for use in all petrol and diesel engine. 2 Years Longlife Protection. -36c (Ambient) Winter Protection. +45c (Ambient) Summer Protection. Contains Mono Ethylene Glycol but no Methanol or Alcohols.
Meets quality standard BS 6580-1992.
Meets AFNOR NFR 15-601 (except Reserve Alkalinity).