In Stock
This item is normally dispatched within
1-2 working days
From:
CarSpares (Cheshunt) Ltd
Checking Availabillity...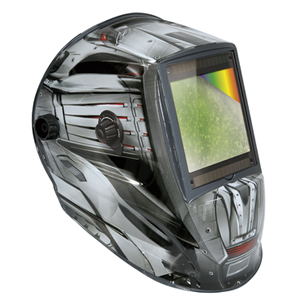 037229 LCD Helmet True Colour 5-9 - 9-13 Alien XXL - GYS Ltd
By GYS Ltd Product Code: GYS037229
In Stock
This item is in stock at our warehouse and is usually
dispatched within 1-2 working days
Description
Optoelectronic hood protects the welder's face and eyes from UV, infrared and splashes. Fully automatic, the mask switches from clear to tinted in a fraction of a second. Fitted with a headband, it frees the welder's hands and offers all the necessary comfort for welding work.
UV/IR protection degree: DIN 15
Tint: adjustable from 5 to 13
- True Color Classification technology: 1/1/1/2
Field of view: 100 x 90 mm
Response time: 0.15 ms
Settings: sensitivity, hue, delay
Power supply : Solar Plus 2 batteries CR 2032
Weight: 560 g
Standards: EN 175 / EN 379
MMA use: 5 to 400 A TIG : 2 to 250 A MIG/MAG : 5 to 400 A Grind mode
Consumables: External glass 114 x 133 mm (ref. 043893) Inner glass 104 x 96 mm (ref. 043596)