In Stock
This item is normally dispatched within
1-2 working days
From:
CarSpares (Cheshunt) Ltd
Checking Availabillity...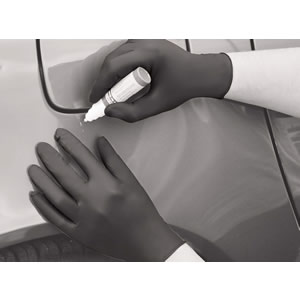 GL8973 Glove Disposable Nitrile Powder Free Black Size 8.5 Large - BM Polyco
By BM Polyco Product Code: BGGL8973
In Stock
This item is in stock at our warehouse and is usually
dispatched within 1-2 working days
Description
Synthetic rubber provides better puncture and abrasion resistance than natural rubber or vinyl. The beaded cuff offers additional strength and prevents liquid from rolling back onto skin or clothing. Textured fingertips offer improved grip to help when working with smaller objects.
Soft elastic material feels cooler and is more comfortable and flexible to wear. Free of latex, which eliminates sensitisation and helps to avoid allergies for wearers with sensitive skin. The glove is powder free, to reduce the risk of product contamination.
Offers good mechanical resistance, with an AQL rating of 1.5 and complies to Medical Standard EN455 Class I.
RECOMMENDED USES
Polyco recommends that the GL897 Black Nitrile can be used for the following: Pharmaceutical Duties, Electronics, Inspection, Local Authority Work, Hospital & Clinical Duties, Tattooist Work and Automotive Maintenance & Repair.